I grew up in a world where people made things for themselves because they couldn't afford to buy them. As a child my father made much of our bedroom furniture. It just seemed normal to have tools in my hands. All my life I've been building or fixing things. I have no "professional" credentials, I can just look at something and figure out how it works or how it could be made to work better or look better.
I'm available for all kinds of general "Handyman" work around your home, including:
Anything to do with wood, rocks, and/or cement; decks, retaining walls, garden bed borders, shelving,
Painting and refinishing.
Simple electrical; replacing fixtures or wall plugs/sockets, installing dimmer switches.
Small home repairs of all sorts.
No job too small. Reasonable rates.
Contact me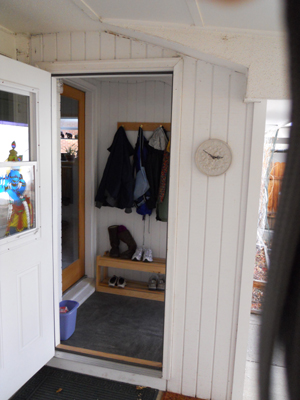 Foyer/mudroom added to the back of our house under the existing porch roof.